Gala 2017 Update
Our guest, celebrity MC for the evening is former Buffalo Sabre, Cody McCormick. A veteran of 405 NHL games, McCormick is from Chippewa of the Thames First Nation, located in Southwestern, Ontario, near London, Ontario.
Our night begins at 5:30 pm with a reception with basket raffles and silent auction items available to bid on. Our formal program begins at 6:30 pm with a welcome and traditional Thanksgiving Address. Dinner will be served by 6:45 pm. The event will also include the presentation of our "Bundled Arrows Awards" which will recognize individuals or organizations who help to strengthen our community.
NACS Executive Director, Michael Martin, said "The Gala not only serves as our largest fundraiser of the year which allows us to make critical investments in meeting the short and long-term needs of the lives we touch, but it also offers an opportunity to give thanks and honor some of the wonderful contributors that impact the community and help NACS in meeting its mission."
Tickets for the 2017 Gala are $100 per person, but please note that ticket prices will increase to $125 on September 26th! In addition to the price increase, there will only be a limited number of tickets available after this date. Tickets can be purchased online through the following site:
http://www.brownpapertickets.com/event/3057372
It is also not too late to be a sponsor, buy a program Ad or donate an item for the large basket raffle or special raffle items. Individuals or businesses interested in becoming a sponsor or purchasing an Ad in the program book can call our main office at 716.874.4460 to receive a sponsorship form or to get more information.
As Martin states, "We hope the community will come out and help us give thanks and celebrate the work of our organization and our community, while also providing us assistance in moving important initiatives forward. We appreciate everyone's support, whether they buy a ticket, become a sponsor, purchase an Ad, or make a donation. It should be a fabulous night and it means a lot to us to see so many people come out and enjoy it with us!"
NACS announces 2017 "Bundled Arrows" Award Winners!
NACS is very happy to announce that our Bundled Arrows honorees for this year's Gala are:
Sakokwenionkwas Tom Porter – Mohawk spiritual leader
Noreen Hill – Project Director of the Indian Education Program for the Niagara Falls School District
Dr. Bruce Coles – Recently retired from New York State Department of Health
The Bundled Arrows awards are in recognition of their contributions and commitment to the strengthening of our local Native American community. Our awards are inspired by the Haudenosaunee Confederacy's Great Law of Peace in which the Peacemaker on his journey to unite the confederacy gave the strongest warrior in the village one arrow and told him to break it and the warrior easily did. He then bundled five arrows together to signify the original five nations to accept the Great Law and asked the same warrior to break it and he couldn't. This simple act showed that we are stronger working together then we are separate.
========================================================================
---
NACS Community Calendar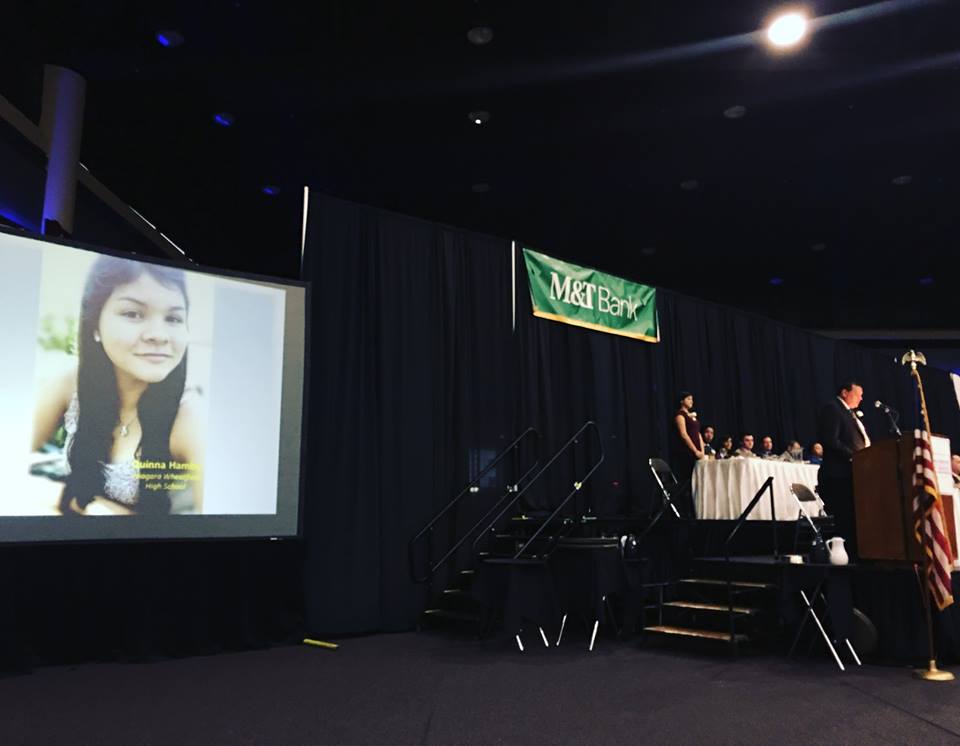 NACS's Michael Martin Co-Chairs the NFJC Awards Lunch
On Wednesday, NACS Executive Director Michael Martin co-Chaired the National Federation for Just Communities of WNY's Annual Community Leader Awards Luncheon. The youth honorees included Quinna Hamby, a member of the Tuscarora Nation (Turtle Clan) for her tireless work in changing a federal holiday to Indigenous Peoples Day at Niagara-Wheatfield high school and her commitment to supporting the Standing Rock Sioux in their resistance to the Dakota Access Pipeline.
Hamby traveled to the Oceti Sakowin Camp in North Dakota last fall where she worked with other Native youth from across Indian Country to mobilize and raise awareness in their home communities. Congratulations to Quinna!