Please join us for the 2017 Gathering of Good Minds! This year's event will be held Sunday through Wednesday, June 4-7, 2017, at the Doubletree Hotel in Syracuse, New York. This four-day gathering for Native communities across New York State (on Nation territories and in urban areas) explores the traditional Native knowledge and connections between body, mind and spirit as fundamental elements of our health and wellness. For the third annual Gathering, we will continue to explore these di
mensions for our Native people as we create pathways for our future generations. The cost for the event is $30 per individual and $50 per family to ensure affordability for all community members. Please visit our event page at http://www.brownpapertickets.com/event/2935093 and register today! We look forward to seeing you at this year's Gathering. For more information, please contact Suzette Brewer, NACS' Director of Communications, at (716) 874-2797, ext. 388 or email sbrewer@nacswny.org.
---

Native American Community Services Helps Launch Native Professionals Network
Buffalo, New York―
On Monday, May 8, 2017, Native American Community Services of Erie and Niagara Counties, Inc., is kicking off the first local Native Professionals Network (NPN) at the New York Power Vista in Lewiston, New York, from 5:30 to 7:30 p.m. The theme of the event is "Powering Up Your Network," and seeks to give Native American professionals in the Buffalo-Niagara region an opportunity to network in a fun and relaxed environment.
"We have a lot of Native professionals in the region who don't always get the opportunity to meet or network," said NACS Executive Director Michael Martin, "So we wanted to establish an informal gathering as a way to catch up, meet new people and exchange ideas and information on opportunities, jobs or just to visit with their peers."
NACS will help co-host the Native Professionals Network on a quarterly basis in venues around the region with corporate and foundation partners and sponsors for each of the events.
"We want the NPN to also provide access and experiences that might not normally be available to them, whether networking with local business or government leaders, or getting behind the scene tours of some of the places or initiatives making headlines in the news," said Martin.
Native Professionals Network is free to attend, but registration is requested. To RSVP, please contact Suzette Brewer at sbrewer@nacswny.org.
---

NACS Celebrates the Grand Opening of its Lockport Office
Native American Community Services of Erie and Niagara Counties, Inc., hosted the grand opening of its newest location in Lockport on Tuesday, April 25, 2017. The nonprofit organization, which has offices in Buffalo and Niagara Falls, has expanded into Lockport with a full portfolio of human services. Tuesday's ribbon cutting ceremony was attended by Lockport Mayor Anne McCaffrey, along with dozens of agency representatives, community members and civic leaders from eastern Niagara County. We'd like to give a heartfelt Thank You to the City of Lockport for its warm welcome!
---

---
NACS Community Calendar
---
---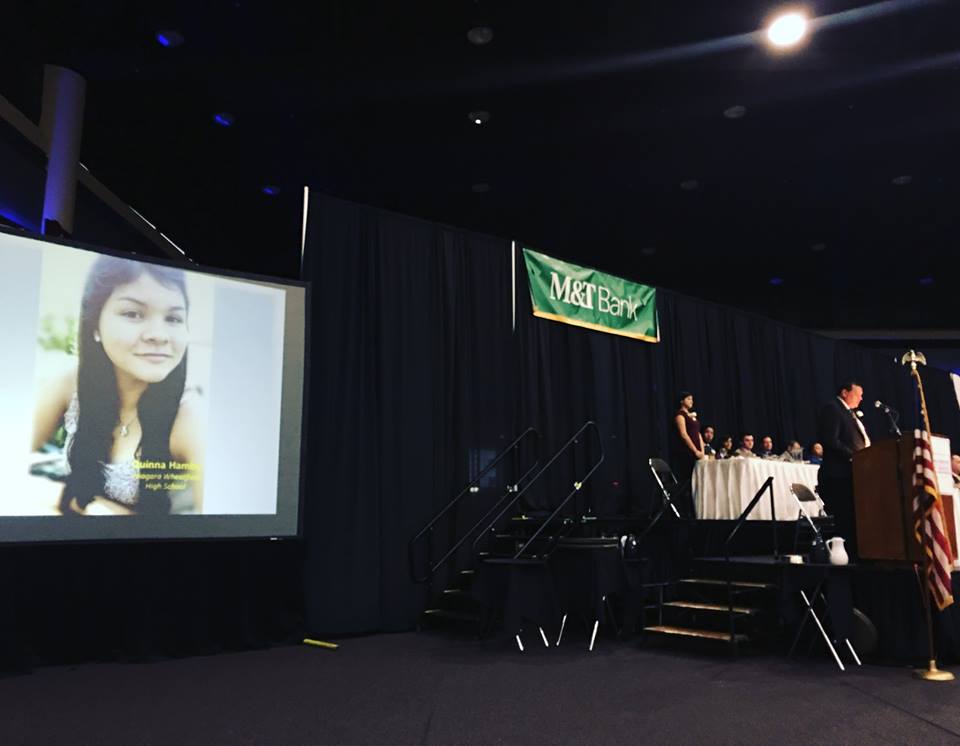 NACS's Michael Martin Co-Chairs the NFJC Awards Lunch
On Wednesday, NACS Executive Director Michael Martin co-Chaired the National Federation for Just Communities of WNY's Annual Community Leader Awards Luncheon. The youth honorees included Quinna Hamby, a member of the Tuscarora Nation (Turtle Clan) for her tireless work in changing a federal holiday to Indigenous Peoples Day at Niagara-Wheatfield high school and her commitment to supporting the Standing Rock Sioux in their resistance to the Dakota Access Pipeline.
Hamby traveled to the Oceti Sakowin Camp in North Dakota last fall where she worked with other Native youth from across Indian Country to mobilize and raise awareness in their home communities. Congratulations to Quinna!