Children's Health Home of Upstate New York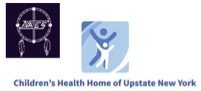 Native American Community Services (NACS) in partnership with Children's Health Home of Upstate New York (CHHUNY) has added a new program in our Family Service's Department.
NACS has become a Care Management Agency for Children (CMA).
What are Children Health Homes?
A Children's Health Home is a care management service model where ALL of a child's caregivers communicate with one another so that a family's needs are addressed appropriately. NACS will provide a care manager to eligible families, children and youth to provide access to services assuring they have everything necessary to stay healthy, out of the emergency room and out of the hospital. The Care Manager supports services that a family may already be receiving and will help families get new ones if necessary.
Why NACS, for health homes?
Families have the choice to select from a number of approved Children's Health Homes authorized by the New York State Department of Health. The CHHUNY network, of which NACS is a member, is New York State's largest and serves 54 of the 61 counties in New York State. This expansive network not only gives families access to a long list of providers and care managers but the Care Management services can travel with a family if they move.
How can my child qualify?
Children from birth to age 21 must be enrolled in Medicaid AND meet eligibility criteria of qualifying conditions:
· HIV/AIDS
· Serious Emotional Disturbance / Complex Trauma
· 2 or more chronic conditions; determined by NY State.