All Our Relations Project
---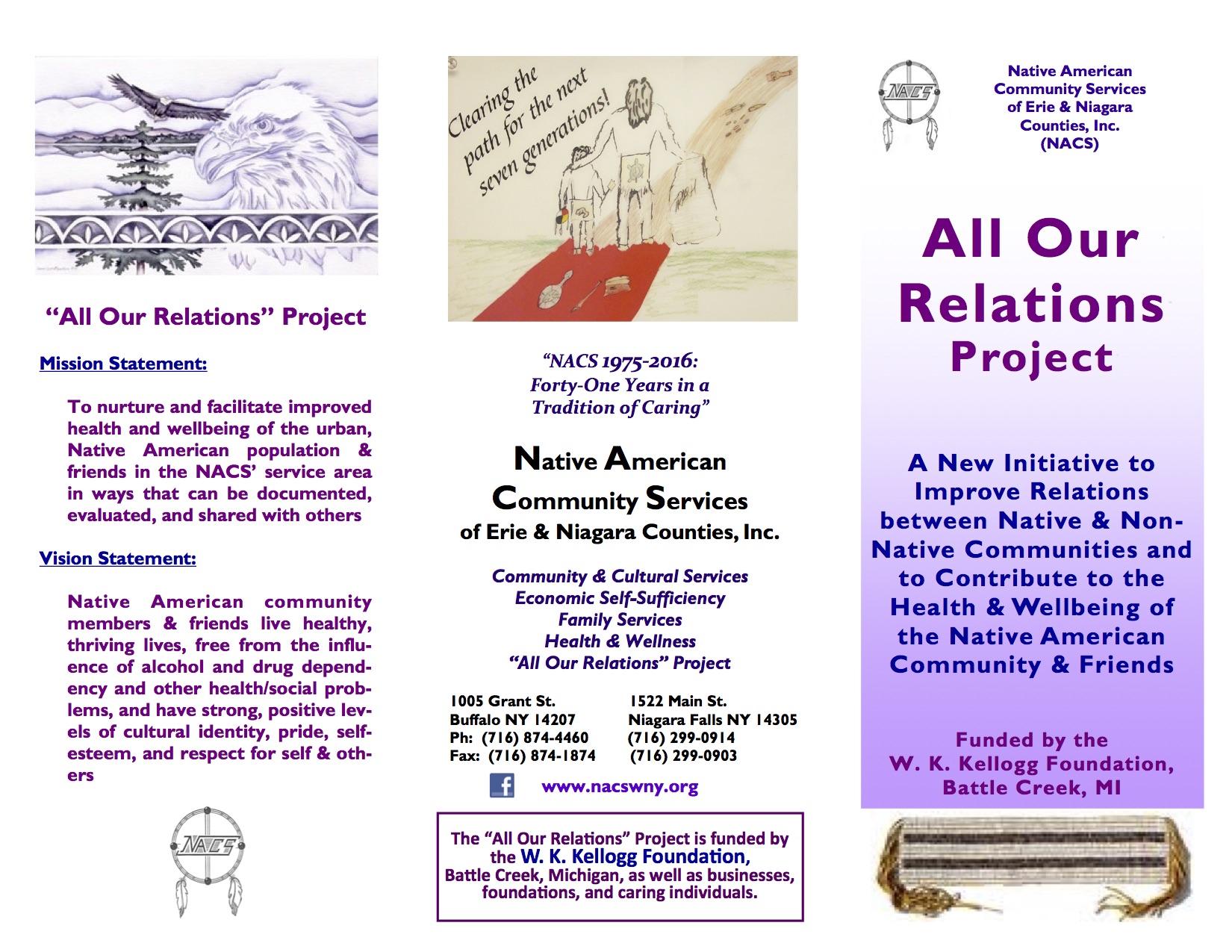 "All Our Relations" Project, A New Initiative to Improve Relations between Native & Non-Native Communities and to Contribute to the Health & Wellbeing of the Native American Community & Friends
.
Funded by the W. K. Kellogg Foundation, Battle Creek MI
Project Mission Statement:
To nurture and facilitate improved health and wellbeing of the urban, Native American population & friends in the NACS' service area in ways that can be documented, evaluated, and shared with others
Project Vision Statement:
Native American community members & friends live healthy, thriving lives, free from the influence of alcohol and drug dependency and other health/social problems, and have strong, positive levels of cultural identity, pride, self-esteem, and respect for self & others
"All Our Relations" Project—
Creating better relationships between Native and Non-Native providers, communities, and persons

Improving the health and wellbeing of the Native American community and friends
The health and wellness of Native American communities have been greatly and negatively impacted by historical traumas and related factors. Many of these issues are not recognized by many Native and Non-Native people. "All Our Relations" is intended to overcome these issues by providing more culturally-grounded programs and services as well as building stronger partnerships with the friends, supporters and providers who work with Native people, families, and communities. All services are provided at no cost to participants.
PROJECT SERVICES
Native American Cultural Activities
Teachings of the "Good Mind"

Haudenosaunee Social Dances

Native Arts & Crafts Instruction

Community Networking & Info Sharing
Voluntary Case Management
Advocacy, Referrals, & Support

Individualized Service Plans

Support for a Wide Range of Issues
Native American Cultural Competency Training
Specialized for Organization Requests

Understanding of Inter-generational Issues as Impacted by Historical Traumas

Models of Cultural Competency to Work More Effectively with Native People